Paris and Luxembourg, 18 April 2023 –
Amethis and Edmond de Rothschild Private Equity announce the first closing of Amethis Europe Expansion.
The Fund is dedicated to the international expansion of French and European SMEs and their social impact.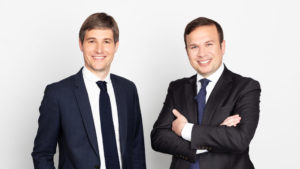 Romain Gauvrit and Nicolas Manardo
Amethis – a partner member of Edmond de Rothschild Private Equity – is a leading player in private equity dedicated to growth SMEs and ISEs in Africa and Europe with more than €1 billion under management and 45 employees in six countries. Amethis and Edmond de Rothschild Private Equity have performed the first closing the Amethis Europe Expansion (AEE) small cap fund at c. €75 million, thanks to the trust of leading investors, including Edmond de Rothschild, Bpifrance, BRED and several family offices.
This success reflects investors' interest in the theme of European SMEs seeking international growth drivers, including on the African continent. AEE intends to accelerate its growth and profitability through the growth in exports, their presence in the most dynamic economies and qualified sourcing outside their European bases.
AEE, classified as article 8 in accordance with the SFDR, has an impact on both social and carbon efficiency levels. The implementation of employee share ownership plans, continuous training programmes and reintegration into the labour market are at the heart of AEE's priorities, as is reducing the environmental impact of the companies in the portfolio.
AEE, which stands out thanks to its European and African infrastructures, acquires majority or minority stakes in European SMEs with international growth potential.
The AEE management team includes Nicolas Manardo and Romain Gauvrit, who have worked together for over 10 years and have a combined 30 years' experience in supporting SMEs. They join the Amethis Pan-African team to accelerate North/South trade and synergies.
Nicolas Manardo and Romain Gauvrit, partners at Amethis, commented: "We are very pleased to welcome these leading investors to our fund. By helping business leaders to grow internationally, the companies in our portfolio ensure competitiveness for the French and European economy, with a significant social impact. Our investors will be proud to have contributed to this." 
Luc Rigouzzo and Laurent Demey, co-founders and managing partners of Amethis, added: "We are proud that Nicolas and Romain have joined us to build a strategy that will fully benefit from the synergies with our sub-Saharan and Mediterranean teams. We share with them and our investors the same values of seeking performance and achieving social and environmental impacts. Lastly, after two successive crises that have shown how important it is for European companies to reduce their dependence on Asia, we are convinced of our shared philosophy of value creation by strengthening partnerships between entrepreneurs on both sides of the Mediterranean."
The team has already made a first investment by acquiring 75% of the French company Groupe Office Automation, alongside the management team, led by Philippe Richoux, to further the company's positions on its markets. This majority, primary and off-market transaction with an international focus is perfectly aligned with the fund's strategy. Groupe Office Automation brings together three companies that enable it to operate across the entire value chain, from the supply, transport and storage of printing solutions to the installation, maintenance and integration of printing and paperless solutions. In 2022, the Group generated over €37 million in revenue, of which around 30% in export. AEE's commitment will enable the company to accelerate its commercial expansion in France and Africa and the growth in sales of refurbished equipment, which will reduce the carbon emissions of the company and its customers.
A second transaction in Spain in the cosmetics sector is being finalised and the pipeline of potential deals is currently very strong.
Johnny El Hachem, Chief Executive Officer of Edmond de Rothschild Private Equity, added: "Amethis Europe Expansion fully illustrates our committed investor strategy serving growth and employment in both emerging and developed countries. This new strategy also demonstrates our ability to attract the best talent and create synergies between our investment teams for lasting value creation."
About Amethis
Founded by Luc Rigouzzo and Laurent Demey, and a partner member of Edmond de Rothschild Private Equity, Amethis is an investment fund manager focused on the African continent, with assets under management of €1 billion and more than 30 or so investments to date. Amethis provides growth capital to promising mid-sized champions in a variety of sectors, offering growth support through its international network covering Europe and Africa. With six offices in Paris, Abidjan, Casablanca, Nairobi, Cairo and Luxembourg, the Amethis team includes more than 40 experienced professionals with strong regional and sector expertise.
AMETHIS EUROPE EXPANSION, FPCI (AEE) is a professional private equity fund under French law open for marketing and reserved for professional investors within the meaning of the MiFID Directive or having the capacity to invest a minimum regulatory amount in accordance with the regulations applicable in their country of marketing.
AEE AIFM: Amethis Investment Fund Manager SA – 4, rue Robert Stumper, L-2557 Luxembourg
All investments involve risks, the main risks being the risk of capital loss, equity risk, credit risk, liquidity risk, emerging market risk, sector risk and foreign exchange risk. Financial assets are subject to market fluctuations and no guarantee can be given as to their future performance. Investors are therefore advised to ensure that any investment is suitable for their personal situation, seeking independent advice where appropriate.
Reference to certain investments should not be construed as an offer, an inducement or a solicitation to buy or sell shares in the companies in question.
Article 8 SFDR: Article 8 fund according to the Sustainable Finance Disclosure Regulation (SFDR): funds that promote environmental or social characteristics. SFDR classification: The investment policy of a fund may change over time and therefore potentially result in a change in its classification in accordance with the SFDR.
About Edmond de Rothschild Private Equity
Edmond de Rothschild Private Equity is an independent entity within Edmond de Rothschild with more than CHF 3.6 billion in assets under management. Driven by an entrepreneurial approach to finance, supported by strong convictions, Edmond de Rothschild Private Equity builds and designs unique investment strategies to provide a long-term response to environmental and social challenges.
Founded in 1953, the Edmond de Rothschild Group had €158 billion in assets under management as at 31 December 2022, 2,500 employees and 29 offices worldwide.