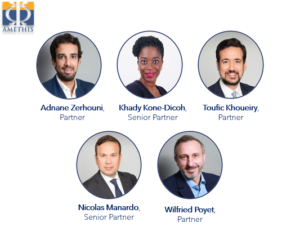 Paris, October 11th, 2022 –
Amethis is pleased to announce the promotion of three new Partners: Adnane Zerhouni, Toufic Khoueiry and Wilfried Poyet.
Khady Kone-Dicoh and Nicolas Manardo are also promoted to Senior Partners.
Amethis continues to strengthen its platform, which now has more than 45 employees, including 11 partners, six offices and five funds representing €850m in assets under management.
Luc Rigouzzo and Laurent Demey stated "Adnane, Toufic and Wilfried have enabled the deployment of our MENA strategy, which will play an even more important role in the coming years with the strengthening of commercial links between Europe and the MENA region within a global context of nearshoring. These promotions, together with the promotions of Khady and Nicolas to Senior Partners, reinforce Amethis' position as a leading impact and growth investor backing African and European champions. We are proud to work alongside these professionals who place sustainability, responsible investment, and financial performance at the heart of what they do."
Adnane Zerhouni is based in Casablanca. He recently led several investments in the region such as Best Health or CFG in Morocco, Global Corp in Egypt. Prior to joining Amethis in 2018, Adnane was M&A Director of Saham Group in Casablanca, where he performed numerous investments on the African continent, in different sectors and particularly in the health sector. Prior to that, he was an investment banker in London in the M&A departments of Deutsche Bank and Barclays Capital, from 2005 to 2012. Adnane is a graduate of HEC Paris and Columbia University in New York.
Adnane commented "I am pleased with this appointment which anchors me permanently in the Amethis platform, alongside high-quality partners. As we continue to invest on the African continent, we are seeing increasing opportunities to contribute to the development of a dynamic and responsible private sector. We believe we can push the social and ecological impact agendas, which have become core objectives of our business."
Toufic Khoueiry is based in Paris and oversees Egypt and the Levant. He led Amethis MENA Fund II's investment in Tarjama in Jordan, the regional leader in the language services sector, and is in the process of executing several transactions in Egypt and the Levant in the technology, healthcare, and consumer sectors. Prior to joining Amethis in 2019, Toufic was a Principal at NBK Capital Partners in Dubai for 8 years, where he completed numerous investments across the MENA region. Prior to that, Toufic worked for 3 years in strategy consulting with Strategy& in the Middle East. He holds an MBA from Harvard Business School, an MSc in Accounting and Finance from the London School of Economics, and a Bachelor of Engineering from the American University of Beirut.
Toufic stated "I would like to thank my colleagues for this promotion into the Amethis partnership and for their trust. Egypt and the Levant present an interesting investment and impact opportunity for Amethis. Over the coming period, we will work to continue to strengthen our presence in these two markets by supporting high-quality entrepreneurs in their growth plans with a sense of responsibility and real added value".
Wilfried Poyet is based in Casablanca. He has completed numerous investments with Amethis in Morocco, where he has lived for over sixteen years, with Magriser as his latest deal, and another in the specialized logistics sector planned in the coming weeks. Prior to joining Amethis in 2018, Wilfried served as Director of Strategy and Finance for a leading Moroccan industrial group for over five years. Prior to that, he worked in private equity for ten years in France and Morocco. Wilfried holds an engineering degree from ISEN (Lille, France), and a master's degree in corporate finance from EM Lyon.
Wilfried commented "I am very proud to be promoted Partner at Amethis, allowing me to continue to anchor the firm's footprint in Morocco's private equity landscape and to accompany entrepreneurs in their development in the kingdom but also in Africa and Europe."
Khady Kone-Dicoh joined Amethis nearly 10 years ago and has led a dozen investments and divestments for Amethis. She has been a Partner since 2021. She co-leads Amethis' pan-African strategy and covers in particular West and Southern Africa. Prior to joining Amethis, Khady was a Manager in the Mergers and Acquisitions team at Société Générale where she carried out a dozen transactions. Khady holds an MSc of Management from EM Lyon Business School, a master's in business law from Lyon III University, and is certified in the London Business School's Accelerated Development Executive Program.
Khady stated "I am delighted with this renewed vote of confidence. We are committed to creating value for our investors and our portfolio companies while achieving a positive impact on climate, gender equality and quality of employment."
Nicolas Manardo oversees the European strategy. He joined Amethis in April 2021 as a Partner after several years as Managing Director of the small caps team of LBO France where he completed several majority and minority transactions. Between 2009 and 2017, Nicolas was working at Bpifrance where he managed the Smidcap activities (equity and debt). Over the course of his career, he has completed more than 20 investments in France and internationally. He is a graduate of ESCP Europe and is certified in Lean-Six Sigma from Ecole Centrale Paris.
Nicolas commented "I would like to thank the Amethis Partners and the broader team for their trust and will continue to work with them to develop our investor base and deploy capital in sustainable and profitable projects. I look forward to supporting Amethis' strong growth in the coming years, including the European SME investment strategy launched this year."
About Amethis
Founded by Luc Rigouzzo and Laurent Demey and member of the Edmond de Rothschild private equity partnership, Amethis is an investment fund manager focused on the African continent, with €850M assets under management close and more than 30 investments completed to date. Amethis brings growth capital to promising mid-cap champions in a diversity of sectors offering growth support through its international network spanning Europe and Africa. With six offices in Paris, Abidjan, Casablanca, Nairobi, Cairo and Luxembourg, the Amethis team comprises more than 45 experienced professionals with strong regional and sectoral expertise. www.amethis.com
About Edmond de Rothschild Private Equity
Edmond de Rothschild Private Equity is an independent entity within Edmond de Rothschild with over 3.5 billion CHF of assets under management. Driven by an entrepreneurial approach to finance, supported by solid convictions, Edmond de Rothschild Private Equity builds and designs unique investment strategies to provide a sustainable response to environmental and social challenges. Founded in 1953, the Edmond de Rothschild Group had €178 billion in assets under management on 31 December 2021, 2,500 employees and 29 offices worldwide. www.edmond-de-rothschild.com