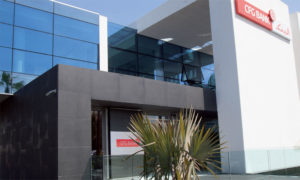 Casablanca, November 23rd, 2022 –
The Amethis team is pleased to announce its successful exit from the capital of CFG Bank (Morocco).
In 2018, Amethis invested in CFG Bank to accompany its new phase of development as well as the expansion of its commercial banking activity.
Nearly 5 years after its investment, Amethis' scheduled exit from CFG Bank's capital was successfully completed this week, in line with the invested fund's term. The majority of the shares held by Amethis were sold to CFG Bank's current shareholders, demonstrating their confidence in the bank's growth prospects.
A pioneer in investment banking since 1992, CFG Bank is today a universal bank offering a complete range of banking products and services through an innovative and unique approach in the Moroccan banking landscape.
In 2015, CFG Bank launched its commercial banking business with the ambition of offering a simplified, enhanced and differentiated banking experience, combining the model of a traditional commercial bank with that of a digital bank. With the support of a limited network of state-of-the-art branches, cutting-edge technology enabling access to digital-intensive functionalities and high-quality customer service, CFG Bank has successfully launched an innovative hybrid model.
With the support of its shareholders and investment funds, including Amethis, CFG Bank has continued to grow with the expansion of its branch network, the development of its technological infrastructure and the consolidation of its operational teams.
Today, CFG Bank has a network of 17 branches and 86 intelligent ATMs, with outstanding loans of nearly MAD 7.3 bn and deposits of MAD 9.6 bn. CFG Bank has also strengthened its presence in its historical activities through the acquisition of REIM Partners, a leader in the management of rental real estate assets, which manages, among others, Aradei, with a portfolio of assets under management of more than MAD 4.5 billion.
Souad Benbachir and Younes Benjelloun, General Managers of CFG Bank, stated "Amethis' entry into CFG Bank's capital came at a crucial period of our development, allowing us to benefit from a first-rate support and expertise on the banking sector in Africa and in Morocco. We have found Amethis to be a high-quality investor, with expert, committed and supportive directors to accompany us through this growth phase."
Luc Rigouzzo and Laurent Demey, Managing Partners of Amethis, stated "This is a new achievement for Amethis in Morocco, which remains at the heart of our target and continues to demonstrate the quality of its private sector and the role that private equity funds can play. Accompanying and supporting CFG Bank in its transition to a universal banking model is an achievement of which we are proud. We wish its management team every success and congratulate them on all that has already been achieved."
Adnane Zerhouni, Amethis partner covering North Africa, stated "We are very proud to have been able to support the emergence of a modern, digital bank that is now well established on the Moroccan market. With its innovative approach, CFG Bank contributes to the diversification of the banking offer in Morocco".
About Amethis
Founded by Luc Rigouzzo and Laurent Demey and member of the Edmond de Rothschild private equity partnership, Amethis is an investment fund manager focused on the African continent, with assets under management close to USD 1 billion and more than 30 investments completed to date. Amethis brings growth capital to promising mid-cap champions in a diversity of sectors offering growth support through its international network spanning Europe and Africa. With six offices in Paris, Abidjan, Casablanca, Nairobi, Cairo and Luxembourg, the Amethis team comprises more than 40 experienced professionals with strong regional and sectoral expertise. www.amethis.com
About Edmond de Rothschild Private Equity
Edmond de Rothschild Private Equity is an independent player within the Edmond de Rothschild Group with over EUR 3 billion of assets under management. With an entrepreneurial approach to finance and supported by strong convictions, Edmond de Rothschild Private Equity builds and develops differentiating investment strategies that provide a sustainable response to environmental and social issues.
Founded in 1953, Edmond de Rothschild currently has CHF 168 billion in assets under management, 2,500 employees and 32 offices worldwide.
About CFG Bank
CFG Bank is a pioneer in investment banking in Morocco and is recognized today as a leading independent player in asset management and intermediation. Founded in 1992 on the eve of the stock market reform in Morocco by Adil Douiri and Amyn Alami, it made a first turn towards the retail segment in the early 2000s by creating a network of branches dedicated to investment advice on the financial markets for retail clients and by launching the first online stock market site on the African continent in 2005. This strategic shift accelerated in 2012 when CFG Bank expanded its activities by launching a multi-channel universal bank offering a premium service to the greatest number of people. The commercial bank was officially launched in November 2015. CFG Bank's ambition is to innovate in the Moroccan retail banking sector by simplifying the banking experience of its customers through digital-intensive functionalities and an innovative multi-channel network, and by accompanying its customers over the long term with a customized, high-quality service. CFG Bank is thus uniquely positioned within the Moroccan banking sector: a bank offering a unique and differentiating banking experience to its customers with the support of a limited network of state-of-the-art branches and cutting-edge technology allowing simplified access to its products and services via a multi-channel network. www.cfgbank.com